President's Corner
Submitted by Rebecca Krogman, Iowa DNR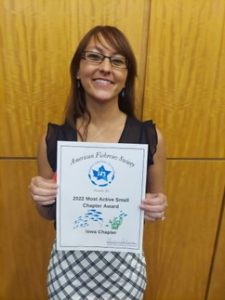 Wow, all I can say is THANK YOU to you all for a wonderful Chapter meeting (and year)!
I hope you all came away from it with something good.
Our student-oriented events were well-attended and had a lot of positive feedback, and I'd like to continue building on the Student-Professional Mentoring Luncheon next year. I have some ideas on how to improve (e.g., more time, early verification and arrival of mentors), but I would love to hear from you anything you'd like to see next time. We won't repeat the same panel discussion every year, but if there is an alternate topic you think would be beneficial, feel free to suggest it.
I was very proud to oversee the first round of new awards, giving formal recognition to our hard-working members and partners in the Chapter. Please consider nominating someone next year for any of them, and congratulations to the 2023 awardees! Remember, all of our awards are open for nominations, including the Award of Professional Merit for giving kudos.
I thank all of our members for their service in the Chapter, including all of our outgoing Chairs and officers. Your time is extremely valuable, and the Chapter is better for your participation. Note that we are always looking for volunteers, so don't shy away if you want some experience. Just let us know!
I'm excited to see what the next year will bring for our chapter. We are close to finalizing the necessary paperwork to establish a non-affiliated Student Subunit to encompass the numerous students in smaller or remote academic programs, an effort led by Josh Goff and Tommy Johnson. Their biggest focus will be planning events to give their members more experience and exposure to fisheries work. They will be looking for opportunities to share with their members, so please submit your student- and volunteer-friendly opportunities for your office! Even if it's a general timeline or idea, at least they'll know to contact you for further coordination.
Last but not least, last year we decided to update our logo through an art contest. There are very few rules, as the design is open to your imagination, has unlimited submissions, and can even come from non-Chapter members, so if you don't think you're an artist but know someone who is, please invite them to submit something by July 31, 2023. We suggest incorporating elements or colors from our parent Division and Society if you choose, or incorporating the species our Chapter has selected to represent Iowa: the Iowa Darter. Submissions are open on our website. We would like to have a new logo identified in time for Chapter shirts to be made for the 2024 meeting. Good luck!