President-Elect Candidates
Two AFS members are running for President-elect of the Iowa Chapter. The winning candidate would become President during 2024-25.
Thank you to Dan and John for running! To vote, please visit: https://iowa.fisheries.org/officer-election/.
Remember, you must be a member of the Iowa Chapter to vote! Membership is extremely easy!
John Lorenzen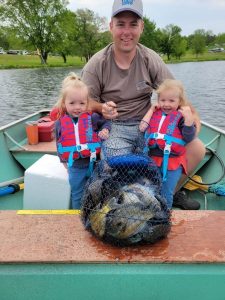 I am the Natural Resource Tech II for Iowa DNR's small impoundment research team based out of Cold Springs. Originally from Holstein, Iowa, I received an A.S. in Wildlife and Fisheries Sciences from Iowa Lakes Community College in 2011 and then transferred to South Dakota State University where I completed my B.S. and M.S. in Fisheries Science. While at SDSU I developed and evaluated fish ladders for small stream fishes that were able to attach to drop culverts. I started my fisheries working career in Kirksville, Missouri, as a Fisheries Management Biologist for the Missouri Department of Conservation in 2016. While in this position I managed public lake resources, led Topeka Shiner reintroduction efforts, as well as coordinated private watershed work to improve water quality in priority watersheds. I joined Iowa DNR at my current position in 2019 where I am actively involved in all of our research team's projects we have going on.
I am a passionate outdoorsman who loves to hunt and fish. I spend countless hours following my Red Setter in the field. I also get out as much as I can pursuing deer, turkey, coyote, and of course, jumbo Prairie Rose Bluegill!
I joined AFS in 2013 and have benefited both from an educational standpoint and from the networking that it provides. I am passionate about the resources we have here in Iowa and if elected, I would do my best to work for the Iowa Chapter AFS members.
Dan Rosauer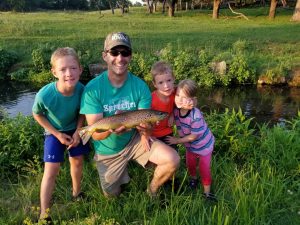 I received my B.S. in Animal Ecology with an emphasis on fisheries and aquatic sciences from Iowa State University in 2007. While school was in session, I maintained a colony of Fathead Minnows in a research lab. I gained various fisheries experience in my summers by working for the Iowa Lakes Survey (I was part of the team that helped Kopaska lose his hair), Index of Biological Integrity work in South Bend, Indiana, and for the Iowa DNR at the Spirit Lake Fish Hatchery. I continued my education at the University of Wisconsin-Milwaukee developing genetically defined Yellow Perch broodstocks. I graduated with my M.S. in 2009 and continued to work in the lab with the Yellow Perch project, raising Black Pacu, and genetics, reproduction and phenotypic differentiation of Lake Trout in Lake Superior. I was hired by the Iowa DNR in 2010 as a Technician II at the Rathbun Fish Hatchery, responsible for phase II walleye culture. In 2014, I accepted the biologist position at the Manchester Fish Hatchery raising and stocking trout.
I was a founding member of the ISU AFS student subunit and served as the secretary. I have been an active member of the Iowa Chapter for the past 12 years and served as the Secretary/Treasurer from 2013-2015. I am excited for the opportunity to run for President-Elect and thank you for your consideration.