AFS Meeting Experiences: What's the Point?
This year, the Iowa Chapter had a strong presence at the American Fisheries Society Annual Meeting, including agency professionals from all over the state, university professors, and students. As we all know, meetings are a big dedication of time and money, so I wanted to let everyone share a little of what they got out of the meeting. Why is this a valuable aspect of being in AFS?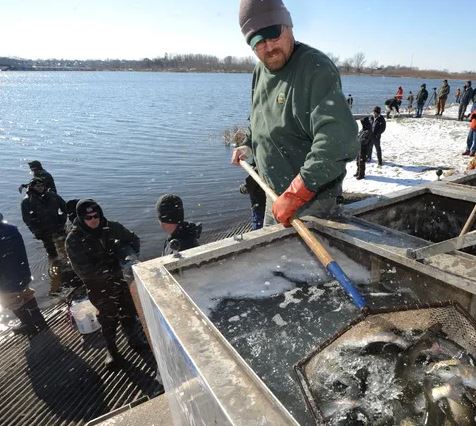 Caleb Schnitzler
I'm glad I was able to attend the National AFS meeting. There was lots of good talk and it was sometimes difficult to choose which one to go to because of all the concurrent sessions. The best talk I went to was "Can Bass Recognize Lures and Learn to Avoid Them?" presented by David Philipp. He covers a lot more than the title suggests, especially in the discussion after the talk. He made you think about how we manage our fisheries by doing research on variables that are hard to test, in resources most states don't have. It also could have major implication no how we select and manage our hatchery broodstock. I presented at the meeting and it went very well. I think it is important to do presentations at meetings like this. To continue to build professional skills that make better employees. I also think it is important to represent the Iowa DNR and the high-quality work that we do to a national audience.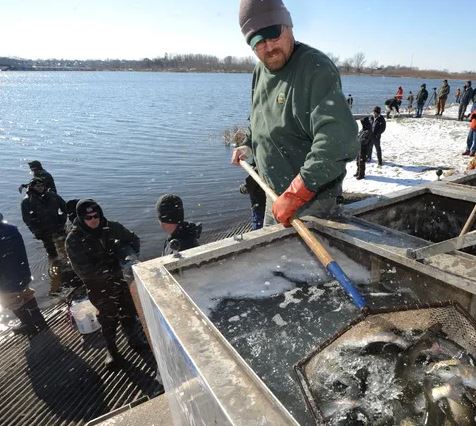 Mike Hawkins
Being a management biologist, especially in my area, has been incredibly rewarding. We are implementing conservation on the landscape and in our lakes every day. However, the work can sometimes get overwhelming, generate controversy, and simply not allow for a quiet moment to catch your breath. And that's the downside in my position. It's in those quiet moments that there's time for reading, catching up with peers, collaboration, or just working on some new ideas. A great conference like AFS allows us to take a break, listen in on new science, network with other biologists and researchers on the cutting edge, and best of all just helps reset your perspective.
Personally, I had the opportunity to see some grad school friends I hadn't seen in 20 years! It was great to catch up. I also got to spend some time in a beautiful city and state I hadn't been to before.
Brandt Boekhout
I attended the AFS meeting largely to share some of my research in the Invasive Carp Research symposium as well as the Poster and Tradeshow Event. I was also looking forward to hearing about research and management within the Midwest and my research focus, as well as across the country and on species I knew little about. I enjoyed the various social events which allowed for more laid-back conversations and networking opportunities. Overall, I believe AFS does a great job helping bridge connections between people across all career stages and also serves as a great platform to share and receive feedback on research and management efforts.
Alan Johnson
I attended the AFS meeting to participate in the Coolwater Fish Culture Session - this meeting is typically held independent of the AFS but hasn't been held since 2019. I was able to connect with other agency culture staff and hear about their culture practices. In sidebar conversations I learned more about their culture programs and hatchery systems. I think the best value at my stage of career is professional networking which leads to sharing ideas to improve fish culture methods. I also attended the tradeshow and discussed equipment for datalogging water parameters with two vendors and was able to put my hands on some of the equipment we may purchase.
I was a 1 day attendee. I was on the fence about attending the full meeting but my schedule/time limitation influenced my decision to go for one day of fish culture that would be most impactful for my research.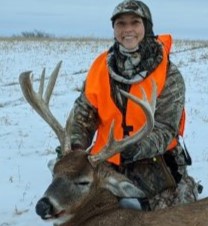 Rebecca Krogman
Attending the AFS Annual Meeting is an extremely important part of my professional involvement for many many reasons, enough that I can tell you I've attended every single one since I joined AFS as an undergraduate student at Iowa State University, except for one. The most important aspect at this stage of my career is probably the collaboration that comes out of it. Because of this particular meeting, I am now pursuing tangible projects collaborating with several other states and universities on microplastics in reservoirs, indexing fish habitat and reservoir habitat senescence, and improved artificial-intelligence-informed trailcam photo processing for remote use counts. We also identified an opportunity to test out a tool for evaluating hydropower projects on large rivers, a very timely issue. I helped host and present in a human dimensions symposium targeted at fisheries biologists for the second time; our planning group's efforts are directly tied to my invitation to lead the authorship of several book chapters on integrating social science into fisheries management. I don't think these opportunities to conduct relevant science with broad scope and impact would happen if I didn't attend these meetings.
I also think the meeting helps you identify and learn about upcoming issues that affect the entire fisheries profession or aquatic conservation in general. Obviously, there are policy updates where we hear about Waters of the U.S., Recovering America's Wildlife Act, and the upcoming Farm Bill, among others. (They are looking for help, by the way, from people familiar with Farm Bill. You can work behind the scenes as needed.) There are high-level Federal updates such as that from the National Fish Habitat Partnership, which has had to change the way they do business with the American Conservation Enhancement Act, and the people best placed to make improvements to the process (such as grant management and accounting, Section 6 paperwork, etc.) are at the meeting for you to corner, er, I mean, to seek out and have a productive conversation about how to make it better. There are improvements coming, believe it or not. But there are also non-political emerging issues, such as ChatGPT. I had not considered how wide-ranging its effects could really be, although I can see its power in the eloquence of Mike's muskellunge fishing limerick. The fact is, ChapGPT and other AI technologies can and will change our academic and scientific lives, and a group in AFS is leading the discussion to utilize it for its efficiency while protecting creativity and innovative scientific outputs. For instance, ChatGPT could be fed our standard answers for various customer service queries and provide autogenerated responses to 90% of them (probably with a human eye to approve); generate weekly fishing reports; or generate meeting agendas and species management document outlines and class plans. It can help improve prose for non-native English speakers. I learned it can even troubleshoot R code. That said, it can be easily misused, writing student's papers or code and bypassing the learning process that is the true goal of education; stealing copyrighted or proprietary content from another author; and overloading our scientific journals with unvetted content. What are the ethical considerations for this tool, from a scientist's standpoint? That's exactly what the AFS working group is trying to figure out.
Finally, I find great value in the AFS Sections in terms of developing leadership skills and strengthening relationships with people who care about the same things I do. As of last week, I am now Secretary-Treasurer of the Fish Habitat Section and President-elect of the Education Section. Numerous members of the Education Section and Student/Early Career Professional Subsection share my interest in providing better support to the myriad small university programs where a Student Subunit may not be viable. Thus, Iowa's concept of a cross-campus subunit open to the students and early career professionals scattered all over is shared by numerous chapters and division leaders, all of us trying to figure out how to make it work well. Congratulations, we are now the official testing ground! More on that later.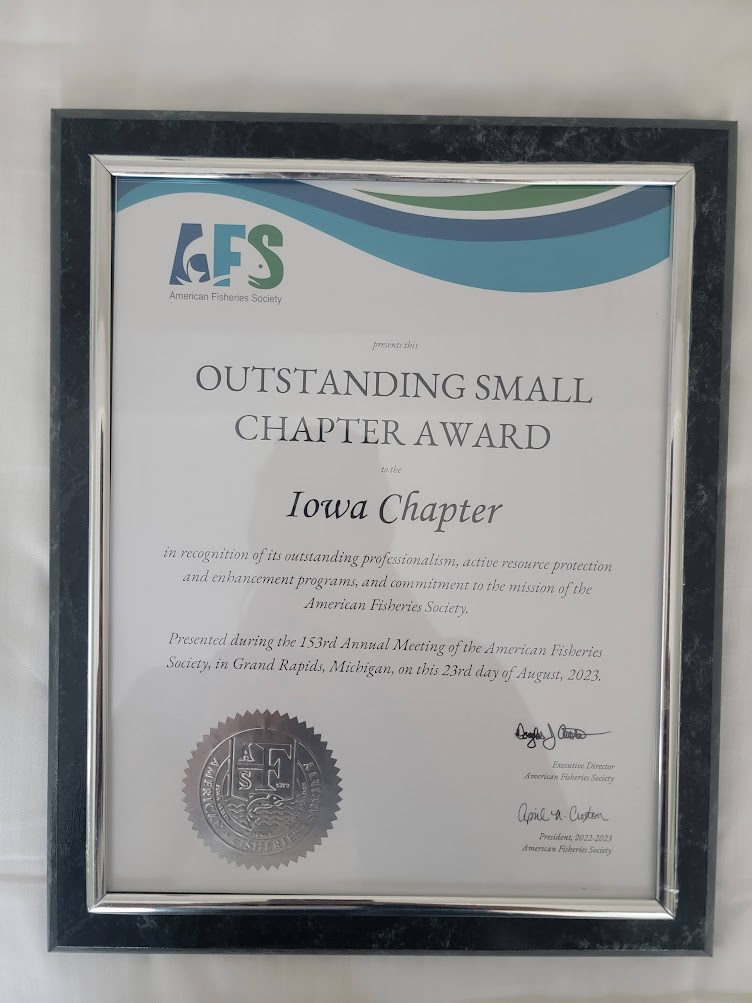 Okay, I know I said "finally" but there's one more thing. AFS does strive to recognize excellence in its members. We are trying to do better at the Chapter level, and will continue to do so, but please all of you pat yourselves on the back because:
Iowa Chapter was named the 2023 Outstanding Small Chapter of the American Fisheries Society!
I'm so proud of everything our chapter has done in the past few years, and everything we're going to do. I was incredibly proud to accept that award with so many of my fellow chapter members by my side. Pretty sure we made the Large Chapter look bad.