2023 Outstanding Young Professional Award: Seth Fopma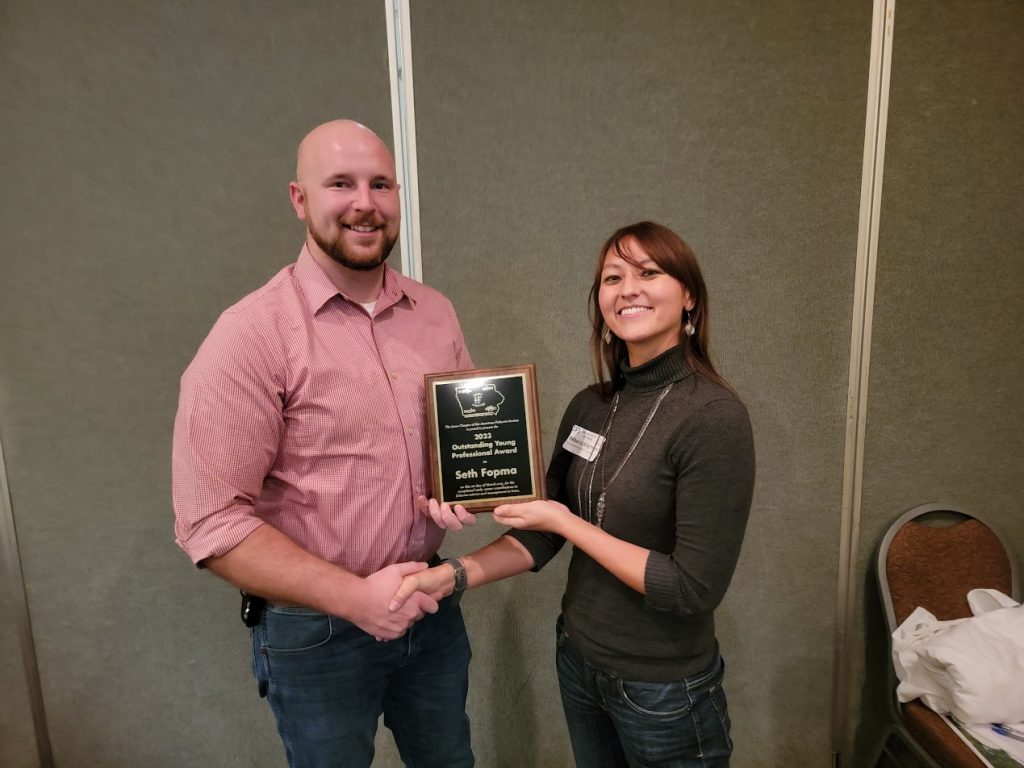 The 2023 Outstanding Young Professional Award was presented to Seth Fopma.
The purpose of this award is to recognize up to two individuals who have made outstanding contributions to the fisheries profession during the first five years of full-time employment. Our winner is Seth Fopma.
Seth has been a Tech 2 at Iowa DNR's Long Term Resource Monitoring Station in Bellevue for 2 years now. His primary assignment is handling vegetation sampling as part of a 30+-year dataset. However, in a few short years, he has already grabbed onto so many opportunities to go above and beyond. He dove into the LTRM's Bluegill data, collected Crappie otoliths from Pools 12 and 13 which had not been done before, and recently co-authored a peer-reviewed paper on long-term Paddlefish data. He also provides assistance willingly to other teams, such as developing a collaborative project in lower Pool 13 assessing environmental factors' response to HREP work, assessing use of acoustic telemetry in backwaters, and assessing our agency's use of genetics.
Seth jumped into the role of Secretary-Treasurer for the Iowa Chapter and has shown himself to be a very thoughtful member of the ExCom. He has also joined Ryan Hupfeld on the Continuing Ed Committee and now as our Centrarchid Rep. He prioritizes mentorship of others and will hopefully host a Master's student through DNR's internship program soon. Congrats, Seth, and keep up the good work!